Floor Plan Design Kolkata | House Planner
The floor plan design provides the basic layout of an interior of a civil construction. It includes domestic building, a housing complex, a shopping mall, an office place, a school premises and other government offices. A building or house floor plan assists a person in viewing and understanding the management of spaces of a building. So, at Artificer Creation, Before proceeding towards interior designing and decoration, we, always do an inspection of your property. On the basis of post inspection reports we furnish and design the floor plans. We configure your carpet area live in 3D and 2D view with the help of the best possible software available. All the floor plan design and drawings are projected keeping Vaastu positions in mind. Our best in class home interior floor planners and room planners are always there to help you understand the plans. Now the question is -
WHAT IS THE DEFINITION A FLOOR PLAN DESIGN?
In architecture, a floor plan design is a structural drawing of a room or of a whole building or house where measurements and space management are key elements. Say, if you have a house or room and you don't know how to decorate or design, you need to hire a room planner to design a floor plan for you. Floor plans include details of walls, rooms, windows, doors, living areas, dining areas, toilets, stairs etc. Fixtures like AC, lightings, sinks, water heaters, furniture etc too are the part of floor planning. Also, floor plans may include statistics for construction to define measurements, finishes, construction methods.
TYPES OF FLOOR PLAN DESIGN
2D Floor Plan Design :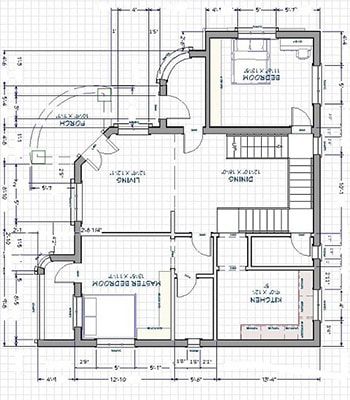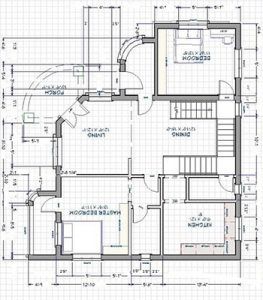 A 2D floor plan is a type of graphical figure that shows the layout of a property, building from above ( Top View). It often shows the walls and room layout. Besides fixture installations like windows, doors, and stairs as well as furniture. 2D or 2 dimension means the floor plan is a "flat" drawing containing length, breath without perspective or depth. Though in the case of interior plans width of a wall is also a part of 2D drawings.
3D Floor Design :
A 3D floor plan can be specified as a virtual model of a house or building's 2D floor plan. It's often used to portray architectural plans to individuals who face difficulties understanding 2D floor plans. In short, the prime objective of 3D floor plans is to replicate 2D layouts in a 3D shape for better viewing. By the help of some high-end CAD tools, an interior room planner builds the plan in such a way that one can easily figure the whole plan layouts. 3D plan shows a better depth of image and is often picturised with 3D furniture in the room. 3D floor plan allows a greater presentation of objects and its dimensions than with traditional 2D floor plans.
Artificer Creation specialises in the preparation of 3D and 2D floor plans for residential houses, offices, and other Buildings. There are many other sectional views of floor plans which will be provided as per requirements. If you have any other queries regarding plans and building layouts, feel free to type a message below or give us a call. We will contact you before your expectations lost.